Working Holiday Visa – Extension
Working Holiday Visa – Extension
Applicants who wish to extend their current working holiday visa, can do so after completing 3 months of specified work in regional Australia.
Meaning of 'Specified Work'
All specified work performed on or after 1 December 2015 must be remunerated in accordance with the relevant Australian legislation and awards, you should be paid at least the current minimum wage – $17.70 per hour or $672.70 per 38-hour week (before tax).
Approved industries for specified work include:
plant and animal cultivation
fishing and pearling
tree farming and felling
mining
construction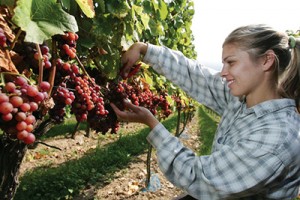 Examples of specified work include, fruit picking, scaffolding, feeding and herding cattle and painting the interior/exterior of new buildings.
Specified work in construction within disaster affected areas counts towards the 3-months of specified work and can include the demolition of buildings, trench digging, land clearing and repairs to roads, footpaths and bridges.
You can find specified work vacancies in the plant and animal cultivation industry via https://jobsearch.gov.au/harvest
Eligible Regional Areas
Australian Capital Territory– The Australian Capital Territory is not classified as part of regional Australia.
New South Wales
2311 to 2312
2328 to 2411
2420 to 2490
2536 to 2551
2575 to 2594
2618 to 2739
2787 to 2899
Note: Excludes Sydney, Newcastle, the Central Coast and Wollongong.
Northern Territory-All of Northern Territory is classified as part of regional Australia.
Queensland
4124 to 4125
4133
4211
4270 to 4272
4275
4280
4285
4287
4307 to 4499
4510
4512
4515 to 4519
4522 to 4899
Note: Excludes the Greater Brisbane area and the Gold Coast
South Australia-All of South Australia is classified as part of regional Australia.
Tasmania-All of Tasmania is classified as part of regional Australia.
Victoria
3139
3211 to 3334
3340 to 3424
3430 to 3649
3658 to 3749
3753
3756
3758
3762
3764
3778 to 3781
3783
3797
3799
3810 to 3909
3921 to 3925
3945 to 3974
3979
3981 to 3996
Note: Excludes Melbourne metropolitan area.
Western Australia
​6041 to 6044
6076
6083 to 6084
6111
6121 to 6126
6200 to 6799
Note: Excludes Perth and surrounding areas.
Calculating Specified Work
Three calendar months = 88 days
You can count work completed in one block with a business OR in separate blocks with a number of businesses. The work conducted can be made up in a variety of approved specified work areas.
One full day of work is equal to 7 or 8 hours, this is considered to be a standard day of work in Australia. Employers cannot reduce the time frame set by industry standards.
Applicants who were prevented from obtaining employment because of injury or seasonal circumstances cannot count any time they were unable to work towards the three-month period. For example, cyclones interrupting harvest activities.
Evidence to be Provided
As of 31 August 2015, all applicants must provide evidence of pay slips with their second working holiday visa application.
Other documents such as tax summaries, employer references and a completed verification form by your employer will help facilitate a quick visa process.
For further information please contact our office