Section 48 bar lifted for some onshore skilled visa applications
Section 48 bar lifted for some onshore skilled visa applications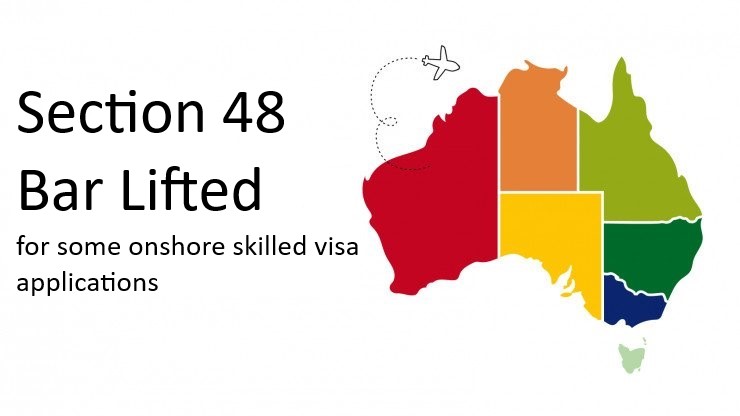 Effective from the 13th of November 2021, the section 48 bar will be lifted for three skilled migration visas. The aim is to minimise the impact of COVID-19 on onshore applicants who have had visas refused or cancelled, and are prevented from leaving Australia due to travel restrictions.
Many visa applicants subject to section 48 bar are highly skilled individuals who meet the requirements for skilled visa pathways. The waiver will allow all states, many of whom had stopped nominating these applicants, to take advantage of those onshore to fill the critical skills gap made worse by the pandemic.
A Section 48 Bar waiver is available to skilled visa applicants who are prevented from leaving due to COVID-19 related travel restrictions, but meet all other requirements to apply for the following visas:
Subclass 491 Visa – Skilled Work Regional (Provisional) Visa
Subclass 494 Visa – Skilled Employer Sponsored Regional (Provisional) Visa
Subclass 190 Visa – Skilled Nominated Visa
What is the section 48 bar?
If you have had a visa cancelled or refused since last arriving in Australia and you are either unlawful (that is – you do not hold a visa) or you hold a bridging visa you are then in what is called section 48 bar.
If you are section 48 barred, you are prevented from lodging most other visa applications while you are in Australia (there are some very limited exceptions). This means that you would normally need to leave Australia.
Current exceptions to Section 48
The following are the only visas which are exempted from the application of Section 48 so you may still be able to lodge a valid visa application for the following visa categories:
Partner visas
Bridging visas
Medical treatment visa
Resolution of Status visa (temporary and permanent)
Territorial Asylum visa (Residence)
Protection visa
Subclass 444 for New Zealand citizens
Child visa (Residence)
Border visa (Temporary)
Skilled Work Regional (Provisional) visa
Skilled Employer Sponsored Regional (Provisional) visa
Skilled Nominated visa
How to apply
For further information on eligibility requirements, the selection process and how to apply please contact us at and one of our experienced agents will get back to you.