Newsletter March 17th 2017
Newsletter March 17th 2017
Newsletter March 17th 2017
Sharing all things migration and visa related with our valued clients
We hope you find this month newsletter informative

Western Australia
On Saturday, 11 March 2017 the people of Western Australia elected Mark McGowan's Labor Party into power for the first time in 8 years. As a result of this, there have been some major changes in relation to the Regional Sponsored Migration Scheme visa (subclass 187), the Skilled Nominated visa (subclass 190) and the Skilled Regional (Provisional) visa (subclass 489). 
 
The Department of Training and Workforce Development (which oversees Skilled Migration in Western Australia) has temporarily suspended the certification of positions for the Regional Sponsored Migration Scheme (RSMS). Whilst this suspension is in place, new applications to certify positions for nomination under the RSMS Direct Entry pathway will not be accepted. This suspension is not impacting regional certification through Regional Development Australia in theGoldfields Esperance region.
 
The Western Australian skilled migration occupation list (WASMOL) is now also under review. Foreign nationals will not be invited to apply for Western Australian State Nomination for the Skilled Nominated visa (subclass 190) or the Skilled Regional (Provisional) visa (subclass 489).
At this stage, there is no indication as to when the RSMS certifications or State nominations will recommence.
 
This means:
You will not be invited to apply for Western Australian State Nomination for the Skilled Nominated visa (subclass 190) or the Skilled Regional (Provisional) visa (subclass 489) if you are a foreign national.
If you were intending to lodge an application through Skilled Migration WA through the RSMS Subclass 187 visa programme your application will now not be accepted.
If you currently have an application already submitted with Skilled Migration WA, your application will be suspended until further notice
It is recommended that you do not lodge a Subclass 187 visa application until your State Migration WA certification has been processed.
What is a registered migration agent?
At First Class Migration, we provide a professional service to those who wish to stay temporarily or permanently in Australia.
We thought to provide an insight to our clients and prospective clients about our profession and how our expertise assists you.
In order to become a migration agent, one must have an undergraduate degree, undergo a post-graduate qualification and be subject to meeting numerous requirements in order to gain our professional registration. These requirements include tertiary qualifications, holding an adequate English language level, undergoing a character check and ensuring we hold professional indemnity insurance and access to our relevant legislation.
As a migration agent, we are bound by our Code of Conduct and the Migration Act 1958. We are held by high ethical standards and we strive to ensure our clients can trust us to manage their Australian visa status.
Without undergoing a rigorous law degree, our profession is similar to that of a lawyer. We must be tertiary qualified or have equivalent recognised prior learning, obtain registration and undergo yearly training to ensure our skills are updated and maintained. Instead of learning all aspects of law such as commercial, probate, wills and estates which a law degree provides, we solely practice migration law and our skills are particularly honed to ensure we can provide this professional service.
To us, the task of filling out a visa application is the finale to our service. We scrutinise the law to ensure our clients meet legislative requirements and review supporting documents to ascertain whether we can evidence their eligibility.
We are required to analyse the Migration Act, associated legislative regulations and pages upon pages of policy to ensure our clients have the best chance of success with their visa application.
In the 2015-16 financial year alone 189,770 individuals migrated to Australia permanently. This was just the permanent visa statistics, let alone the number of individuals travelling to Australia on Temporary visas which was in excess of 7.7 million. This number outlines only the applicants who were granted visas in Australia, not the number of those whom applied and were not successful.
Our aim, and what we work so hard for at First Class Migration, is to provide the best chance for our clients to be included in the aforementioned number of successful applicants migrating to Australia.
We hope the above has provided you with an insight as to how we can and have assisted you.
Staff Spotlight…….
This week marks Amber's six-month anniversary with First Class Migration.
After becoming fully registered in October last year, Amber has quickly adapted to her career as a migration agent. Fast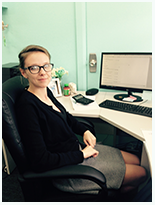 becoming our go-to agent for all Partner and Parent visa applications.
In addition to her knowledge of the Family visa streams, Amber manages a variety of different cases, including corporate (Temporary Work (Subclass 457) and Employer Nomination Scheme) and Independent Skilled Migration.
During her time here, Amber has also managed character and domestic violence cases and written numerous submissions for both our corporate and family based clients.
Amber commutes to Mona Vale on a daily basis from the Central Coast, she is our classic coastal Australian and in her personal time, loves to read, eat dumplings and catch up with family and friends. She is also partial to a decent red wine and cheese platter!
Michelle and the team at First Class Migration