Newsletter February 2017
Newsletter February 2017
Newsletter February 2017
Sharing all things migration and visa related with our valued clients
We hope you find this month newsletter informative

First Class Migration Australia has had a cracking start to 2017 and we hope you have all had a great start to 2017 – the Chinese Year of the Fire Rooster! The Year of the Fire Rooster comes a crowing saying "Wake Up!!" and we here at First Class Migration Australia are wide awake looking forward to the excitement and challenges that lay ahead in 2017.
Updates:
NO age change for the Working Holiday Visa and Work and Holiday Visa (subclass 417 and 462)
Late last year it was widely advertised that the age limit for the working holiday visa and work and holiday visa, subclass 417 and 462, was being lifted as of January 1st 2017. We can confirm that this legislative change has not come in to effect and the age limit still remains at 30 (inclusive of the 30th year). Australia are currently waiting for other reciprocal countries to agree to the increase in the age limit and this has caused the delays in the legislative change. First Class Migration Australia will keep you advised immediately any legislative changes come in to effect.
Parent Visa
This is a kind reminder that the Parent visa scheme will be undergoing radical changes from 1 July 2017. We anticipate higher visa application fees and narrowed eligibility requirements along with more onerous sponsorship obligations. If you are an Australian permanent resident or citizen and would like more information about the parent visa options, please do not hesitate to contact our office to have their eligibility assessed
Genuine Position
Recruitment Consultant, Marketing Specialist, Customer Service Manager and Restaurant Manager are those occupations that are now being hit with requests for further information (RFI) in relation to "genuine position" – such requests ask us to provide:

an explanatory statement and/or evidence that shows that the position has not been created for the purpose of facilitating the entry to, or stay in, Australia for your nominee
an explanatory statement and/or evidence that the tasks of the position are consistent with the tasks of the nominated occupation as listed in the ANZSCO when taken in the context of where the position will be performed
an explanatory statement and/or evidence that the position is consistent with the nature of the business (for example, explain why it fits within the activities of the business and how the business can support the position)
an explanatory statement and/or evidence that describes the core activities of your business
a structure chart for the business including full names of current employees, positions held and details of any visa held, which indicates how the position fits into the business activity (I note you provided an organisational chart however does not include the positions the employees hold)
financial records (independently verifiable where possible) which demonstrate that the business can support the nominated position
if the position has been previously occupied, evidence of this and a statement of reasons why it has become vacant
if the position is new, evidence (independently verifiable where possible) of this
Our Team at First Class Migration Australia are pre-empting these requests from the DIBP, so your dedicated registered migration agent will now be requesting further supporting documentation from you when we draft a 457 nomination application on your behalf to avoid getting these RFI's and the lengthy delays that come with them.
Visa Processing Times Update ……
Current processing times:
Subclass 457 nomination and visa applications approximately 8 weeks
457 visa transfer – we request all of these to be expedited and generally they come through within 2-5 days.
ENS Subclass 186 approximately 7-8 months
Subclass 820/801partner visas 12-18 months.
Subclass 143/173 Parent visas (contributory) – 28 months
Subclass 189/190 – decision ready – 4 to 8 weeks
If you have any concerns regarding your application processing time, feel free to contact the First Class Migration Australia team for an update. We will, however, always keep you informed of any updates or progress as soon as this is received.
 Staff Spotlight ……
This week we feature our wonderful Social Media & Marketing Superstar Katy Carroll.
This week marks Katy's 1 year anniversary with First Class Migration Australia! Katy looks after our social media and online advertising, she produces all the groovy graphics and beautiful images you will see on our Instagram & Facebook pages. She is currently in the process of producing a new feature to our website which will be our new 'First Class Migration Australia Blog Page'. Watch this space, it will be up and running soon!
Katy also provides administration support for the office and ensures our processes run smoothly and efficiently! Katy is very familiar with the migration process as she and her family have migrated from England to Australia. Katy has a wonderful understanding of what our migrating clients are going through and is a very supportive and understanding member of the team.
To find out m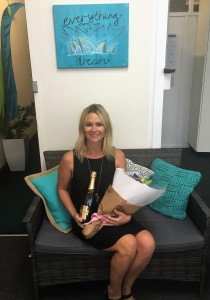 ore about our staff visit our website www.firstclassmigration.com.au