AUSTRALIA VISA ALLOCATION FOR 2022
AUSTRALIA VISA ALLOCATION FOR 2022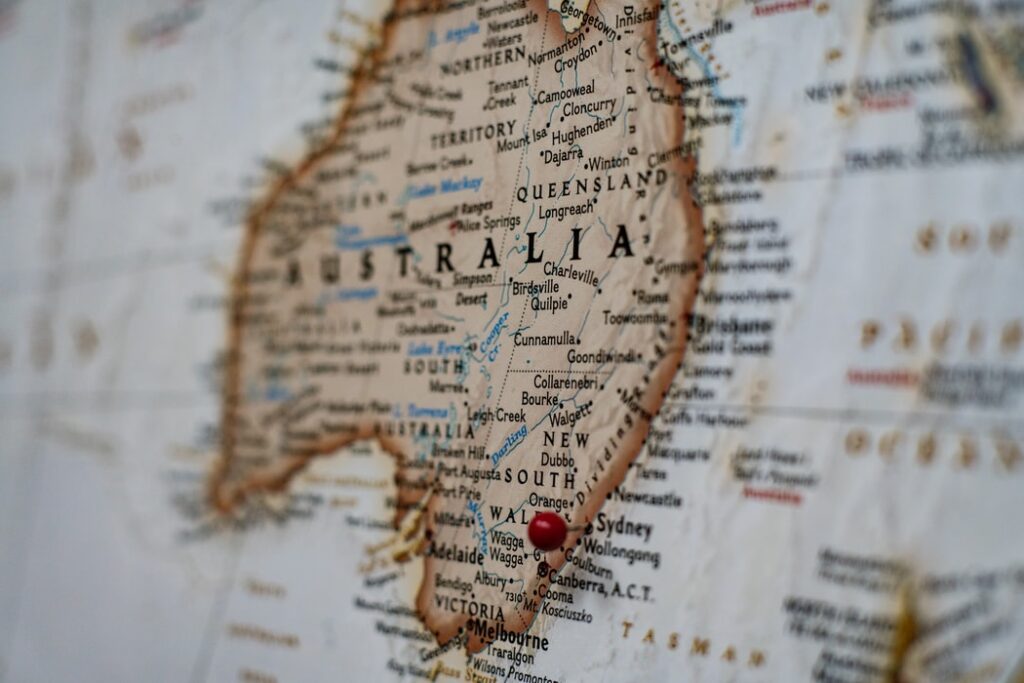 Australia's migration program has been severely interrupted by COVID-19. The recent budget stated that due to international travel restrictions the target of 160,000 migrants a year will focus on granting permanent residency status to those already onshore, including families and partners.
In 2021-2022, the Migration Program Skill stream will continue to focus on visa categories that will help Australia's economy rebound from COVID-19, with priority given to visa cohorts that drive economic growth, job creation and investment into Australia. The three priority categories within the Skill stream for 2021-2022 are:
Global Talent Visa Program
Employer Sponsored Program
Business Innovation and Investment Program (BIIP)
These visa categories provide investment, talent, and critical skills to Australia, and are well positioned to assist Australia's economic recovery.
​Yearly Visa Allocation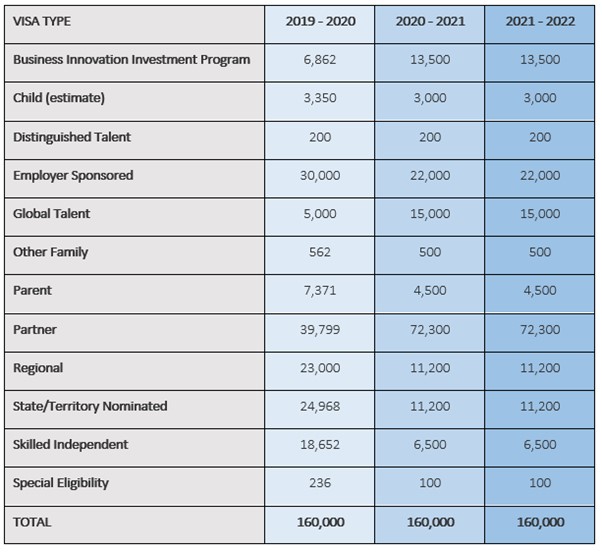 The State and Territories are gradually opening again for nomination applications. The following is an update as of 2nd July 2021:
Australian Capital Territory (ACT) – Overseas applicants are not eligible to apply for ACT nomination.
New South Wales (NSW) – Subclass 190 applicants must be currently residing in NSW. NSW will not accept Expressions of Interest (EOI) submitted from people currently residing in another Australian state or territory, or offshore. Subclass 491 applicants must have been living in a designated regional area of NSW for at least the previous 12 months.
Northern Territory (NT) – General Skilled Migration (GSM) is closed for offshore applications; Business Innovation and Investment Program (BIIP) open but criteria under supervision.
Queensland (QLD) – The Queensland State Migration Program is closed. The new Queensland business and skilled nomination criteria will be available towards the end of July 2021.
South Australia (SA) – The General Skilled Migration (GSM) and Business Innovation and Investment Program (BIIP) Programs are scheduled to reopen in the week commencing 19 July 2021.
Tasmania (TAS) – The 2021-2022 Tasmania State Visa Nomination Program is expected to commence and call for new applications in July 2021.
Victoria (VIC) – Applicants must live and work in Victoria.
Western Australia (WA) – No Skilled migration announcements.
Visa Allocations Across Different States​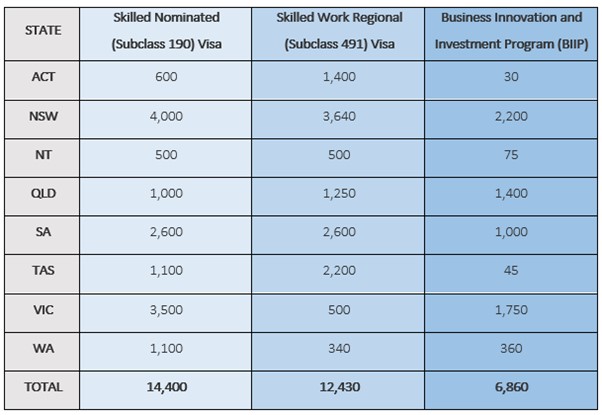 For further information on eligibility requirements, the selection process and how to apply please contact us at and one of our experienced agents will get back to you.