Our staff
Michelle Le'Fevre
Registered Migration Agent Number – 0639954 – MMIA
Michelle Le'Fevre is the Founder and Director of First Class Migration Australia Pty Ltd. She is originally from the UK and migrated to Australia in 2002, arriving in Sydney Australia on a working holiday visa. After 12 months of exploring this wonderful country, Michelle found employer sponsorship in Sydney under the popular 457 temporary business visa stream. Michelle then transitioned to permanent residency and became an Australian Citizen in 2009. It goes without saying that Michelle has been there and experienced first-hand the anxieties and emotions involved with migrating to Australia. Michelle is a senior registered migration agent, registered since 2006 and has extensive knowledge of Australia's migration legislation.
Michelle prides herself on providing a professional, personal and efficient service and it is this service that has seen First Class Migration Australia grow from a small, one woman business to a successful Australian company. Michelle is extremely passionate in helping other migrants "live the dream down under" and ensuring First Class Migration has a team that shares this same passion and service.
Tanya Tekuleka
Registered Migration Agent Number – 0853249
Tanya Joined the First Class Migration Australia Team in October 2016 and is our Corporate Case Manager. Tanya has 13 years of migration experience and has been a Registered Migration Agent since 2008. Tanya has been a member of the Migration Institute of Australia (MIA) since 2013 and holds a Graduate Certificate in Migration Law and Practice from Victoria University. Her expertise is in corporate migration assisting businesses to sponsor overseas workers. In addition to corporate migration, Tanya has experience managing partner visa applications, general skilled migration matters, skills assessments, family migration and submission writing for complex issues and compliance.
Tanya was born and bred on the Northern Beaches of Sydney and has experienced firsthand the migration process having brought her partner to Australia from Fiji.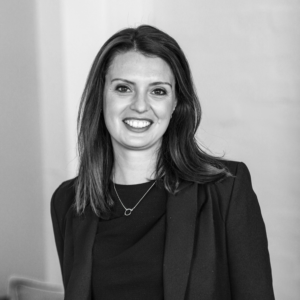 Silvana Lakic
Registered Migration Agent Number – 2117222
Silvana is a newly registered Migration Agent holding a post-graduate Diploma in Migration Law and Practice as well as a Business Degree from Western Sydney University. Having joined the First Class Migration Australia team in March 2020, she brings with her a wealth of knowledge of more than 7 years experience assisting individual and corporate clients in all aspects of migration related matters.
Silvana predominantly works with our Family Visa applicants, with a focus on Partner and Parent Visas. She possesses an unparalleled attention to detail that is complimented by a warm, friendly, and welcoming demeaner.
Silvana is kept incredibly busy by her three beautiful girls, and cherishes time spent with family.
Sherri Croucamp
Office Manager
Sherri joined the First Class Migration Australia team as Office Manager in May 2021. While her background is in the financial services industry, Sherri brings a wealth of knowledge and experience in office management, administration, human resources, and marketing to the team.
Having migrated from South Africa to Australia Sherri understands the rigorous process our clients go through and is delighted to be able to work in an environment where she is part of the life changing migration journey of others.
Sherri lives in the Northern Beaches with her husband, two children and a much adored cavoodle Nala. She is passionate about travel, spending time with friends and the outdoors.
Zach Zocher
Registered Migration Agent Number - 2217725
Originally from Cape Town South Africa, Zach immigrated to Australia with his family when he was 14. His passion and keen interest in immigration law resulted in him completing a Graduate Diploma in Migration Law at Victoria University.
Zach understands that the immigration process can often be a challenging and emotional time for visa applicants, having gone through it himself. His experience has been key in his ability to assist clients in achieving their migration goals. Zach is passionate about the migration industry, and has a client centric approach in everything he does.
In his spare time he enjoys surfing and playing golf.
Fernanda Bressan
Administration Assistant
Fernanda has been an Administration Assistant at First Class Migration Australia since August 2020.
Having graduated Bachelor of Law from University of Sao Paulo – Brazil in 2006, and Business Administration from Australian Institute of Professional Education in 2012, Fernanda is responsible for handling the team's administrative tasks.
Fernanda migrated to Australia from Brazil in 2009 and became an Australian citizen in 2018. She has experienced firsthand the complexities of navigating her way through the Australian migration system, and therefore provides a unique level of support and understanding.
Fernanda has a passion for discovering new cultures. She enjoys the outdoors, sports, and most of all spending time with her family and friends!
Darren Tester
Operations Manager
Darren is responsible for ensuring our office and IT systems run smoothly and efficiently so our team can provide a smooth and efficient service –  Darren looks after any "technical" issues, a bit like Charlie with his Angels!
Get in touch!